Cairns retreat & girly chimp
Just a very quick post. I'm in a mad hurry to pack for a retreat I'm going to.... in Cairns! Yes!! My first interstate retreat. I'm going to have a weekend of fun with the girls from
Scrap Therapy
. I'm stressing out on what to pack. If you think packing to go for a local retreat is tough, try packing for a retreat where you have to fly to get there.
Anyways, a minor zoological technical error I made in my last post - Magoo is not a monkey. It is a chimpanzee. I kind of just noticed... that he doesn't have a tail. :D So there we go.... Magoo the chimpanzee. On that note, we were invited to a Christening last Sunday. And I made a girl version of Magoo, for the baby girl who was christened. I don't have a name for her. I gathered, the baby girl will name her when she's ready. :)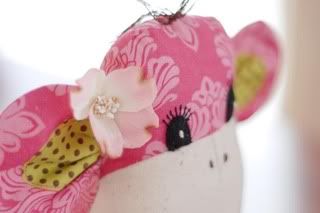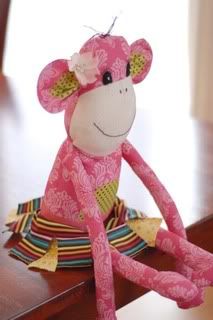 This time round, I did a few things differently. But boy did I struggle with the skirt. As there was no pattern, and I'm not exactly Paton or Burda material, so I had to do it by trial and error. You wouldn't believe how many times this skirt has gone through facelifts in its shortest lifetime. I would have stitched, unstitched, cut, stitched, unstiched again, cut some more, stitched again,.... you get the drift. I spent more time on the skirt than sewing the whole chimp. Anyways... it turned out really gorgeous and I love her. I wanted to add more feminine touches, so I added a Prima flower on her head, and gave her some "mascara lashes" too.
OK... time to go back to packing. I'm still stressed. But I'll have a great weekend. Looking forward to some sunshine and tropical rain. :) :) See you when I'm back!
mich