Moving. Monkey. More fabrics.
We have a date! When we are getting our keys that is. 29th May 2009. So we are moving in 30th May 2009.
Yippee!!!
I think I have to start organising things into Garage Sale pile and Moving pile. Believe it or not, I've never moved a family before. I've moved from place to place before, but it's all just me - moved out of house, moved into my first marital home, split and moved out, moved from one flat to another, and another, moved my whole life to Australia .... but I've never MOVED with an entire family. This is like ... massive! I don't even know where to begin to pack?! Apparently there is a kind of service - The White Glove Mover, where you most likely pay through your nose for, and a team of professional removalists will come and pack everything for you, move them to your new place, AND UNPACK everything and put everything where they belong. You literally just walk out of your old house, have a day out, and walk straight into your new house and enjoy. I don't think I have enough arms and legs in my next 10 life times to pay for that!
I have recently got into sewing. I've owned a sewing machine since 6 Mother's Days ago. I've only used it for scrapbooking stitching and hemming. For a few months now, Ruey has been doing lots of 'research' on sewing projects. She decided she wants to get a sewing machine and sew her own cushions and a long list of other projects. I caught on to that fever pretty quickly too. We decided to do this little project together, to build our confidence... actually more like my confidence really. So we bought this Melly & Me's Magoo pattern. Magoo is a soft stuffed monkey. We bought our fabrics during the recent Stitches and Craft show, and a whole lot of other tools of the trade. A month later, and after spending 2 bombs, we finally got together the other day and did our Magoos. We didn't quite finish the project on the day cos as newbies, we spent a bit of time deciphering instructions. I finished up the project late that night... and here he is... in his spotty glory and drawstring shorts.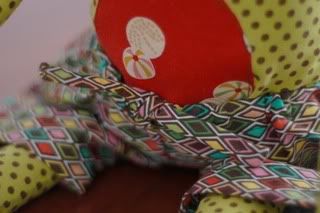 So there you go, my first big sewing project. hehehe.... We've been invited to a christening this weekend... I think I might make another one for the little baby girl. :)
I did some fabric shopping .... this is Spotlight stash...
... this is Kelani stash....
I have plans for more monkeys and a skirt for DD.
Kids are back to school today. Phew... I'm back to normal. I could go to the gym and do grocery shopping by myself. But I think I'll start organising our garage sale like I said I would. hehehe...
That's all for now. Have a good week! Ciao!